Authorized Partners International Medical University Kyrgyzstan
Welcome to our Authorized Partners page, where we proudly highlight reputable organizations that collaborate with International Medical University Kyrgyzstan to facilitate a seamless pathway to exceptional medical education. Our authorized partners play a crucial role in assisting aspiring students in their journey to pursue their dreams of becoming medical professionals.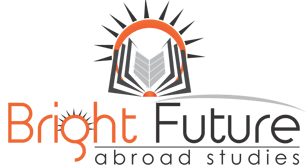 Bright Future Abroad Studies
Bright Future Abroad Studies is a distinguished educational consultancy that shares our commitment to guiding and supporting students as they navigate the complex landscape of international medical education. With a proven track record of excellence, Bright Future Abroad Studies offers expert guidance, personalized counseling, and comprehensive support services to students seeking admission to International Medical University Kyrgyzstan. Their team of experienced professionals ensures that students are well-informed, well-prepared, and well-supported throughout their academic journey.
Contact Authorized Partners
Yogeshwar Overseas is a trusted name in the realm of educational consultancy, dedicated to providing students with the resources and guidance they need to pursue their aspirations in the field of medicine. As an authorized partner of International Medical University Kyrgyzstan, Yogeshwar Overseas assists students in every step of their application process, from program selection and documentation to visa assistance and pre-departure guidance. Their commitment to excellence aligns seamlessly with our mission to deliver quality medical education to students from around the world.
Contact Authorized Partners
Why Choose Our Authorized Partners?
Our authorized partners offer a range of services that simplify the process of applying to International Medical University Kyrgyzstan:
Join Us on the Path to Medical Excellence
Collaborating with our authorized partners ensures that you receive accurate information, expert guidance, and comprehensive support as you embark on your journey to become a medical professional. We look forward to welcoming you to the International Medical University Kyrgyzstan community and helping you achieve your academic and career aspirations.
For all inquiries and to learn more about International Medical University Kyrgyzstan
ул. Анкара 1/17, Bishkek, Kyrgyzstan