About International Medical University Kyrgyzstan
Welcome to the International Medical University (IMU) Kyrgyzstan, a visionary institution of higher learning dedicated to advancing medical education, research, and innovation on a global scale. Our status as an internationally accredited institution by "SAPATTUU BILIM" underscores our commitment to excellence. We take pride in being part of the World Health Organization's directory and the prestigious list of educational commissions for foreign graduates of US medical universities. IMU Kyrgyzstan's diplomas are recognized across CIS countries, India, Pakistan, the USA, and Canada, setting a benchmark for international recognition and acceptance.
The core mission of IMU Kyrgyzstan is to cultivate a cadre of highly skilled, globally competitive professionals through innovative education. We equip our graduates with the latest medical knowledge, cutting-edge technology, and compassionate patient care, all while nurturing a strong moral compass. Our ultimate goal is to contribute to the well-being of society by elevating healthcare standards and quality of life through the provision of ethical and exceptional medical care.
IMU Kyrgyzstan envisions itself as a beacon of medical education, producing graduates who are sought-after specialists in the global workforce. Our graduates will lead the application of pioneering medical science, education, and practice, integrating the latest technological advancements into their professional lives to make lasting contributions to the field of medicine.
Strategic Goals and Objectives
IMU Kyrgyzstan is driven by a strategic plan aimed at achieving leadership in the national and international academic and scientific spheres. Our objectives encompass:
Academic Excellence and Faculty
IMU Kyrgyzstan boasts a faculty that meets the rigorous standards set by the Kyrgyz Republic's educational regulations. Our teaching staff excels in imparting knowledge and skills through bilingual instruction in Russian and English. We foster cross-border academic exchange through engagements with international scientists and experts. Professors from England, Germany, Russia, and Kazakhstan frequently visit our institution, enriching our curriculum and broadening our students' horizons.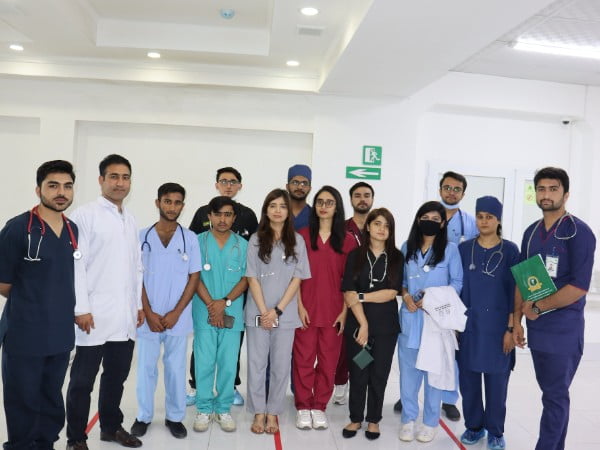 Dynamic Faculties and State-of-the-Art Facilities
Our academic offerings encompass three faculties: General Medicine, Dentistry, and Pharmacy. Additionally, we house a residency program and the College of Medicine and Pharmacy, along with the modern Avicenna Medical Clinic. With over 2,000 students hailing from diverse backgrounds, our facilities include advanced educational and experimental laboratories equipped with innovative tools.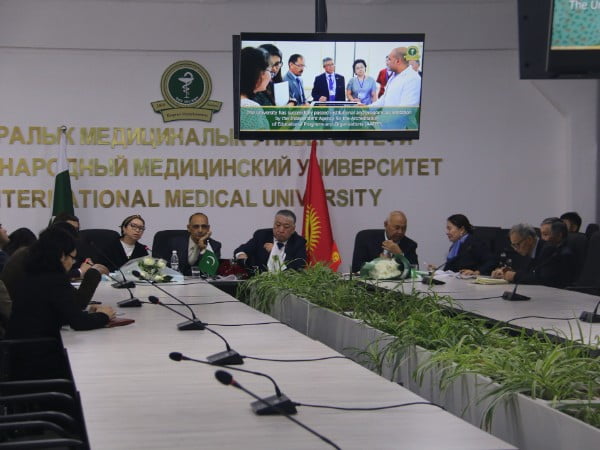 Anatomical Museum and Innovative Learning Tools
The Morphological Building is home to an anatomical museum that serves both educational and demonstrative functions. It houses a rich collection of human and animal organ plastinated exhibits, models, and areas that facilitate comprehensive learning.
Among our advanced teaching tools is the interactive Pirogov table – a cutting-edge educational resource that enhances learning through a 3D visual interface. With over 4,000 interactive objects, our students experience immersive and memorable learning sessions.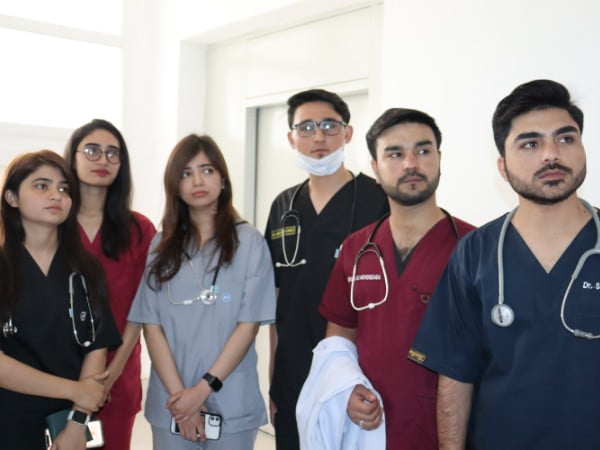 Modern Medical Facilities and Research
IMU Kyrgyzstan's Avicenna Medical University Hospital, in its developmental stage, envisions 16 departments with 600 beds, an intensive care unit, and 9 operating units. The hospital already houses a polyclinic and an emergency medical service. Future plans include providing students with clinical internships and real-time observation of surgeries, allowing for a holistic medical education experience.
Embracing Technology and International Collaborations
Our institution swiftly adapted to the challenges posed by the COVID-19 pandemic, transitioning seamlessly to online learning through a state-of-the-art learning management system (LMS) developed by Moscow programmers. We prioritize student well-being by offering on-campus hostels, sports facilities, and regular sports events.
Global Partnerships and Networking
IMU Kyrgyzstan thrives on its international collaborations with prestigious institutions worldwide. Our partnerships extend to universities and research centers, including the University of Lahore and University of South Asia in Pakistan, Chuvash State University in Russia, National Research Mordovian State University in Russia, and many others. These collaborations bolster our global positioning and ensure our students benefit from a broad spectrum of academic experiences.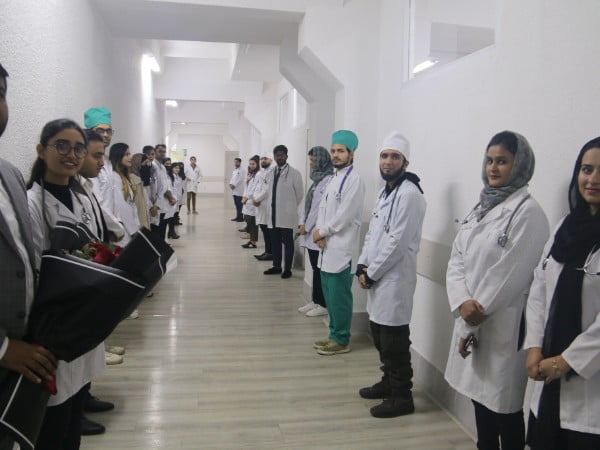 With a growing number of certified general practitioners and a commitment to pioneering medical education and research, IMU Kyrgyzstan is poised to lead Kyrgyzstan's healthcare landscape towards excellence. Our journey towards academic distinction is rooted in innovation, compassion, and global connectivity, ensuring our graduates are prepared to make a significant impact in the world of medicine.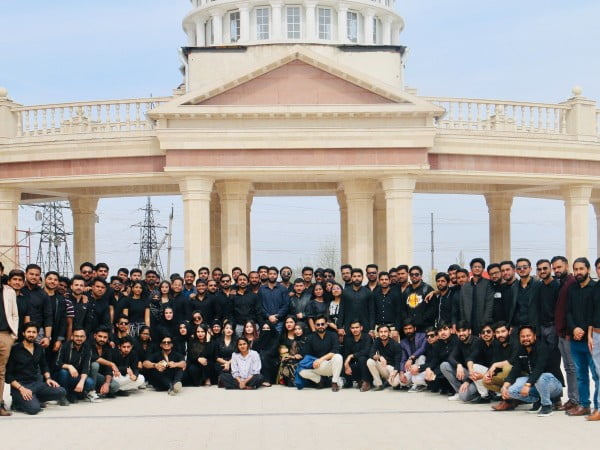 I am pleased to welcome all of our new students to the International Medical University of Kyrgyzstan (IMUK). I know that you are all excited to start this new chapter in your lives, and I am excited to be a part of it.
IMUK is a great place to start your medical education. We have a world-class faculty, state-of-the-art facilities, and a vibrant student community. We are committed to providing you with the knowledge and skills you need to become successful doctors.
I encourage you to take advantage of all that IMUK has to offer. Get involved in student organizations, participate in extracurricular activities, and make the most of your time here. I am confident that you will have a memorable and rewarding experience at IMUK.
I would also like to thank our seniors for their support of the new students. They have been working hard to welcome you to the IMUK community and make you feel at home. I appreciate their dedication and commitment.
I wish you all a successful and enjoyable year at IMUK.
Sincerely,
Maykanaev Bolot Bektashevich
Rector, International Medical University of Kyrgyzstan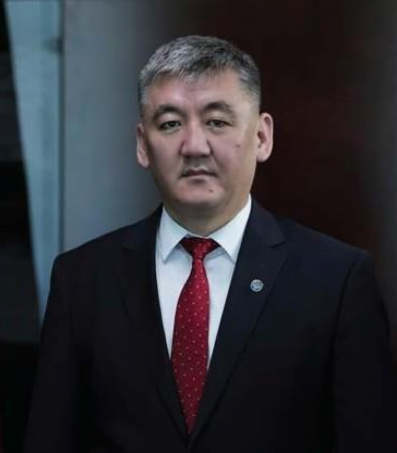 Message from the Head of International Department
Dear new students,
I am excited to welcome you to the International Medical University of Kyrgyzstan (IMU). We are a leading medical university with a world-class education, experienced faculty, state-of-the-art facilities, and a vibrant student community.
We know that starting medical school can be daunting, but we are here to help you every step of the way. We have a team of experienced advisors and a variety of student support services available to help you succeed.
We are also committed to creating a welcoming and inclusive environment for all students. We believe that diversity is a strength, and we are proud to have students from all over the world in our community.
I encourage you to get involved in IMUK and make the most of your time here. Get to know your classmates, join student organizations, and participate in extracurricular activities. I am confident that you will have a memorable and rewarding experience at IMU.
Sincerely,
Barsbek Zhumaliev
Head of International Department
International Medical University of Kyrgyzstan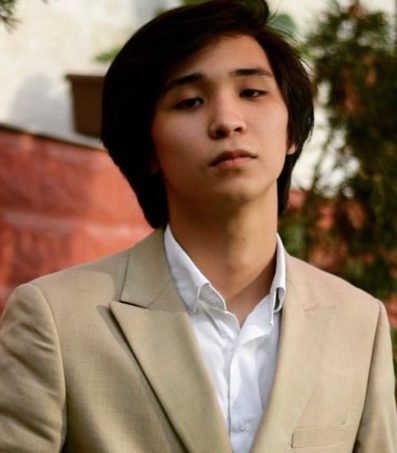 For inquiries and more information, please feel free to
Join us on our mission to reshape medical education and contribute to a healthier world through International Medical University Kyrgyzstan. Your journey to exceptional medical expertise begins here.